Promotional partners help promote Thrive week through your group or network. Promotional Partners do not need to host an event or Thrive initiative, but offer valuable support in promoting Thrive and positive mental health at UBC.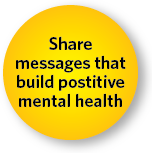 Share stories and messages
Highlight positive mental health through your online or social media channels.
Highlight positive mental health in the classroom
Showcase a course or assignment that has a focus on positive mental health.
Promote personal tips and tricks
Let others know how you thrive at UBC.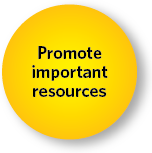 Share thriving spaces
Highlight peaceful or quiet spaces on campus with others.
Build awareness about where to find support
Use newsletters, social media, and meetings to share resources that help build positive mental health for all.
Increase the visibility of campus mental health resources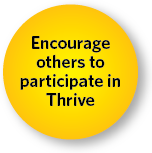 Tell a friend
Start a conversation about what positive mental health means.
Participate in events and social challenges
Attend a Thrive event, or leverage your online communities to take part in the Thrive photo challenge.
Promote the Thrive events calendar
Promote Thrive calendar initiatives in-person or online. 

Resources for Promotional Partners: