Faculty partners are integral to improve student success by promoting positive mental health in the classroom, lab, and across departments.
Mental health is critical to students' resilience and academic success. Did you know: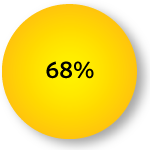 of undergraduate students have experienced depression, anxiety, and stress that affected their academic performance over the past 12 months. (Undergraduate Experience Survey, 2016)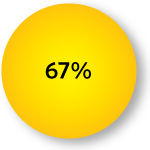 of undergraduate and graduate students prefer learning about mental health initiatives through their instructors. (Open minds, 2016)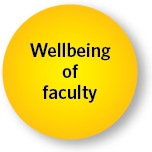 is strongly linked to education, research quality, and the welfare of academic institutions (English and Avakian, 2012)
A systemic approach to student wellbeing on any campus includes the active involvement of all stakeholders in ensuring continued social support, inclusive classroom environments, and positive interpersonal and professional interactions.
Your Wellbeing contributes to a Thriving campus
Research shows that faculty wellbeing is linked to education and research quality, and the welfare of academic institutions. Focusing on your personal health can benefit your own wellbeing and that of your colleagues and students.
UBC Research: wellbeing is linked with academic success
The TLEF project How Teaching Practices Influence Student Mental Health and Wellbeing reveals how instructional practices can have a positive impact on the student learning experience by promoting student wellbeing. The project's research team is beginning to share findings on the UBC Teaching and Wellbeing blog. We invite you to join the conversation through the blog and in-person events. Learn more at https://blogs.ubc.ca/teachingandwellbeing/.
For more research that supports the link between wellbeing and academic success, please see a list of references at the bottom of the page.
Share your experiences
Faculty play an important role in supporting and enhancing student wellbeing. If you're interested in getting involved in research on Wellbeing in Learning Environments, sharing your own research, or participating in our faculty engagement programs, email diana.jung@ubc.ca.
Activities and resources to build mental health in the classroom
During Thrive
For example, as a homework assignment, or as part of a class 'think, pair, share', encourage students to consider how the concepts behind Thrive are related to your course curriculum.
Or, students can be asked to participate in one Thrive activity and critically reflect on whether/how Thrive helps to build a healthier campus community. Use the video Designing Healthy Campus Communities in your class as a starting place for discussion or familiarize yourself with helpful resources for supporting student success.
Recruit one to two students to help organize a class potluck. Pick a date and encourage students to sign up to bring a tasty dish to share. Try recipes from the Healthy UBC Blog Food of the Month.
How to support others
To support students in distress
Visit facultystaff.ubc.ca for full details about how to speak with, help, and connect students in distress with the resources they need to succeed.
To support colleagues in distress
Visit hr.ubc.ca for full details about how to speak with, help, and connect a colleague or team member in distress to resources and supports.
(Full URL: http://www.hr.ubc.ca/wellbeing-benefits/living-well/mental-health/mental-health-resources/helping-staff-and-faculty-in-distress/)
---
Contact us
Our Thrive team is available to support your Thrive ideas and contributions from start to finish.
Email us and we'll be happy to answer your questions.
---
UBC's exciting wellbeing research and activities build on and contribute to an existing body of literature in the field. Some examples of this literature include:
Dennison, S. T., Gruber, K. J., & Vrbsky, L. (2010). Research literature review on social work education instructional methods: 1998–2008.Journal of Teaching in Social Work, 30(4), 399419.
doi:10.1080/08841233.2010.517732
Eisenberg, D., Golberstein, E., & Hunt, J. B. (2009). Mental health and academic success in college.The BE Journal of Economic Analysis & Policy, 9(1), 1–37. doi:2202/1935-1682.2191
Eisenberg, D., Hunt, J., & Speer, N. (2013). Mental health in American colleges and universities: Variation across student subgroups and across campuses. Journal of Nervous & Mental Disease, 201(1), 6067. doi:10.1097/NMD.0b013e31827ab077
Fink, J. E. (2014). Flourishing: Exploring predictors of mental health within the college environment. Journal of American College Health, 62(6), 380–388. doi:10.1080/07448481.2014.917647
Gebka, B. (2014). Psychological determinants of university students' academic performance: An empirical study. Journal of Further and Higher Education, 38(6), 813–837. doi:10.1080/0309877X.2013.765945
Hartley, M. T. (2011). Examining the relationships between resilience, mental health, and academic persistence in undergraduate college students. Journal of American College Health, 59(7), 596–604. doi:10.1080/07448481.2010.515632
Keyes, C. L., Eisenberg, D., Perry, G. S., Dube, S. R., Kroenke, K., & Dhingra, S. S. (2012). The relationship of level of positive mental health with current mental disorders in predicting suicidal behavior and academic impairment in college students. Journal of American College Health, 60(2),126133.
Martin, J. M. (2010). Stigma and student mental health in higher education. Higher Education Research & Development, 29(3), 259274. doi:10.1080/07294360903470969
Moulding, N. T. (2010). Intelligent design: Student perceptions of teaching and learning in large social work classes. Higher Education Research & Development, 29(2), 151165. doi:10.1080/07294360903470977